Land Clearing
Diverse Construction is equipped to handle projects of all sizes and demands, eliminating obstacles that stand in the way of your project goals. We have the heavy equipment and workforce available to get your project done quickly and efficiently.
Land clearing removes trees, stumps, brush, and other growth to best facilitate new uses of the land. Our services create the clear site you need to begin construction, and we do so quickly so you can get to work right away, meeting your deadlines.
We will assess the needs of your project and land, identifying vegetation and other materials in need of removal. We offer total land clearing services and selective clearing, allowing you to keep specific natural features if you desire.
Have a parcel that requires clearing? Contact Diverse Construction to discuss land clearing services. We work year-round to deliver the quality clearing services necessary to begin your construction project.
Excavation
Diverse Construction's excavation services help you create the clear site needed to begin your construction project. We remove soil to the depth required for new foundations and compaction to ensure stability. Our team performs heavy excavation, foundation work, erosion control, and more to prepare your site for the next steps of your commercial construction project.
Site excavation services include:
Setting corner benchmarks
Surveying
Excavating to desired depth
Compaction of loose soil
Meeting cut off level
Marking structure boundaries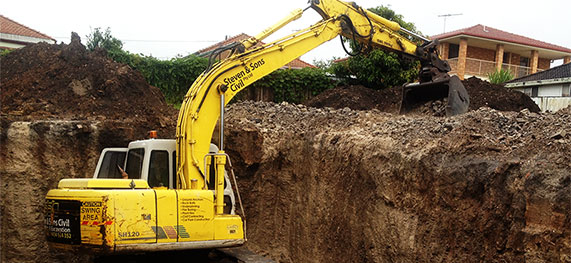 Diverse Construction has the equipment needed to complete jobs of all sizes. We utilize modern equipment and innovative technology to deliver optimal results for our clients while maintaining high safety standards.
In addition to excavation, we offer haulage services to clear your job site, creating a full-service package to cleanly prepare your site. We can clear any materials and remove the waste, saving you the trouble of coordinating with multiple contractors to get the job done.
Contact Diverse Construction today to discuss excavation and removal services tailored to the needs of your upcoming construction project.
Copyright © 2018 Diverse Construction. All Rights Reserved.